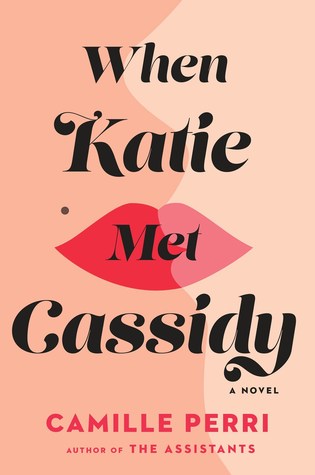 From the acclaimed author of The Assistants comes another gutsy book about the importance of women taking the reins—except this time, when it comes to finding sexuality, pleasure, and love sometimes where you least expect it.Katie Daniels is a perfection-seeking 28-year-old lawyer living the New York dream. She's engaged to charming art curator Paul Michael, has successfully made her way up the ladder at a multinational law firm and has a hol...
---
Details When Katie Met Cassidy
Title
When Katie Met Cassidy
ISBN

9780735212817

Author

Camille Perri

Release Date
Jun 19th, 2018
Publisher

G.P. Putnam's Sons

Genre

Romance

,

Fiction

,

Lgbt

,

Contemporary

Rating
Reviews When Katie Met Cassidy
Between all the stereotypes, the lackluster characters, and the fade-to-black sex scenes, this was a real dud. I'm hella bummed. Where are all the great F/F romances hiding?! 😭

This is a quick and enjoyable love story. Katie Daniels is a successful lawyer who gets dumped by her fiancee and is having a difficult time overcoming the end of her relationship. Soon after, she meets Cassidy in a business meeting. That same day after work hours, Cassidy bumps into Katie at a wine bar and asks her out for a drink. Katie accepts unenthusiastically but soon the views and feelings will change for both.The book is short and entert...

If this book featured a heteronormative couple, it would get absolutely zero press (and would have a way lower rating). Because it is not a good book at all. The characters are superficially drawn and the relationship between them advances at an absurd pace; things that should pose significant barriers and obstacles to their relationship (e.g., conservative/disapproving family, first same-sex relationship for one character after decades of never ...

Folks, the unthinkable has finally happened.Someone wrote a lesbian romance novel for straight people.I appreciate that a w/w romance made it into the mainstream, but I don't think we can really call "two corporate lawyers insulting each other and sitting in awkward silence until suddenly it's a relationship" a successful step forward for gay literature. Katie is a corn-fed, garden-variety stereotype of the unsullied straight girl, and Cassidy is...

I was a big fan of Camille Perri's The Assistants and thought the relationship between the narrator, Tina, and her friend Emily was really interesting, much more interesting than the relationship between Tina and her boyfriend, whose name I forget. So when I learned that Perri's new novel was about a romantic relationship between two women, it made complete sense to me, and I was dying to read a romance that had the same distinctive voice, humor,...

This is cute, fun, short, sweet, and pretty gay... my favorite. I think there are problematic details though. The actual title of this book should probably be "stereotypes 101". Katie couldn't be more of a straight, white girl if she tried. As for Cassidy - puhlease with this womanizing butch thing. It kind of felt like this was written in the 90's by a straight lady, which I know isn't the case! No matter what… if girls are kissing i...

I wish we could do 1/2 stars, because I think this book is a solid 3.5 star book.Katie Daniels has just been dumped by her "perfect" fiancee when she meets Cassidy Price. Cassidy is confidant and aggressive compared to Katie's meek and quiet personality. But they are immediately drawn to each other. Cassidy introduces Katie to a life she did not think she wanted, but finds herself drawn into. This is a quick, fun, summer read.I guess where I stru...

3.5 stars rounded upLooking for a quick summer read, this may be your jam. I read this book in one day and loved the immediate connection between Katie and Cassidy. Katie Daniels is off the heels of a bad break-up with her fiancé, Paul Michael (or something like that, who cares he stinks) and crosses paths with Cassidy Price. Cassidy is immediately intrigued by Katie even knowing she isn't her "type." There is an immediate curiosity and connecti...

I debated whether to give this 2 stars or 3 stars. I did binge read it in about 3 days but kept noticing aspects of the book throughout. I also would not reread. This book was meant to be an LGBTQ novel but the structure of the writing screamed erotica to me even though no erotic scenes occur. One thing I noticed throughout the book was the lack of character development and the lack of insight into the character's history. For example, though it ...

Cute story, though I'd wish Perri would have used bisexual at least once, considering that Katie exhibited aspects contributed to bisexuality.3.5/5

Review on my blog • Twitter • Instagram Rep: f/f romance, lesbian mcI was sent an arc from the publisher in exchange for an honest reviewMy feelings for this book are, complicated. I'm not sure where to begin.Katie has just gone through a breakup, and she has a new job at a law firm. She meets Cassidy, who is higher up in the company and kind of an office romance begins. Katie thinks she's straight, but she doesn't later say she's bisexual....

*2.5 stars*On one hand, I'm happy an f/f romance is getting so much attention. On the other... I wish it was a better f/f romance.

I loved this book! And as the Katie in my own relationship, I didn't know how much I needed this book until I was crying at the end. When Katie Met Cassidy is as funny, charming, and romantic as your favorite Nora Ephron movie. I fell in love with every single character, and I was rooting for the relationship from the moment they met until the very last page. Treat yourself to this smart, sexy, and sweet love story. It's a delight.

Initial thoughts:I know a lot of people have been loving this, but I had... mixed feelings. Katie has a lot of anti-queer, specifically anti-butch sentiments in the beginning. She is scandalized that Cassidy wears all men's clothing. (Especially that she wears briefs--like, this discovery is earth-shattering for Katie.) Cassidy is a ~womanizing heartbreaker. (Until she meets Katie, of course.) And, of course, the concept of bisexuality is never m...

.5/5I have some thoughts about this book. This book doesn't feel... natural. Everything seemed so disingenuous and the characters were bland and one dimensional. I find it odd that this is an own voices book because this feels like lesbian fiction written by a straight person. The writing is also very lackluster. I wasn't looking for a verbose epic, just a cute story about two women in the LGBTQ community, and I feel like I didn't get that. This ...

Katie is a 28 year old lawyer who just found out her fiancé, Paul Michael, cheated on her with her best friend. Cassidy Price is also a lawyer who enjoys plenty of one night stands with women and likes to wear men's clothing. The two of them meet as opposing counsel during negotiations for their respective clients. As they interact with one another, it's obvious there is a special connection between the two. But do they really have a shot at lov...

An adorable little example of how an excellent writer can render enjoyable to a reader a typically unfavored genre. I am not a romance reader at all, but went for this BOTM Club selection anyway because I so enjoyed Perri's The Assistants. Her writing is like Cassidy's sartorial style as described in the book: it's just clean and sharp and accomplishes much with simple deftness and high caliber minimalism complemented by a touch of dashing ...

3.5 STARS ⭐ This f/f romance was a complete binge-read for me - I finished it in 2 sittings! It was steamy (lots and lots and lots of sex talk and discussions and thoughts and such ~ probably a 4 on my 5~flame scale) and while many romances are all about "other stuff" and the romance plays a major part, this book is ALL ABOUT THE ROMANCE AND THE SEXUALITY. And that's not a bad thing ~ the story is about Katie discovering her sexual attraction t...

This is a cheesy lesbian romance novel through & through. I thought it was so cute and perfect for summer reading. Queer women deserve cheesy romance novels. Straight people, sometimes being queer is NOT THAT DEEP and don't read this expecting it to be about our "pain" because we want light & fluffy as much as you do. It's also tricky because I don't want people reading this & thinking it's representative of the queer experience (ie I have NEVER ...

Corporate attorney Katie is a 'GRITS' (Girl Raised In The South . . . a Kentucky native to be exact, y'all), a 28 year-old still smarting a bit from a recent break-up with snobby Manhattanite 'Paul Michael.' Corporate attorney Cassidy is a native New Yorker, beginning to question if she should curtail her days as a lesbian Lothario as she is now supposed to be more responsible at 30 years old. They meet across a conference room table as their (ma...

This was super cute and made me smile so much! I'm a sucker for a butch/femme romance, and this book hit the spot. It's not super deep, but it's lovely, fast-paced, and entertaining and I recommend it to anyone looking for a sweet, fun romance.

I don't read a lot of romance but this book made me realize that I'd like to read more f/f romance, so I got that out of it. There were lots of things I liked here, but I feel like it kept things too much on the surface and didn't dive deep enough. Mostly I liked Cassidy as a successful, smart, butch woman. Katie is kind of the classic straight-woman-falls-for-a-woman, as in she never actually decides if she's queer, limits her interest to just t...

This had so much potential but it got completely mired down in stereotypes and bad cliches.

Unfortunately I was disappointed by this book. Was it a light, fun read? Yes. Did I read it mostly one sitting? Yes. But after reading amazing LGBTQ stories like The Heart's Invisible Furies and The Seven Husbands of Evelyn Hugo, this one just fell flat. It was one dimensional when it could have been so much more. We received glimpses of Katie's and Cassidy's back stories. We glanced upon their struggles. If you are looking for a fun read, this w...

Before I share my thoughts about this one, you should know I'm reviewing this as a cisgender straight woman. I encourage you to seek out reviews by those who are lesbian or bisexual. This was a quick easy read but it left me wanting more. More communication between Katie and Cassidy (address your problems already!), more story, more exploration of Katie's sexuality. I really enjoyed Cassidy's found family at the bar and thought that was one...

This is was so cute. It wasn't a great literary masterpiece and was sort of predictable but it did its job. It was light, sweet, and super gay. It made me really happy. I wish that gay romances that don't end tragically weren't so few and far between.

This is the fastest I've flown through a book so far this year. Actually in much longer than that. I loved it so much! Such great writing but the amazing characters are what really make this story! Full review to come.