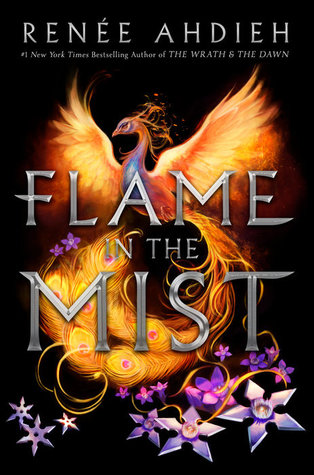 The only daughter of a prominent samurai, Mariko has always known she'd been raised for one purpose and one purpose only: to marry. Never mind her cunning, which rivals that of her twin brother, Kenshin, or her skills as an accomplished alchemist. Since Mariko was not born a boy, her fate was sealed the moment she drew her first breath.So, at just seventeen years old, Mariko is sent to the imperial palace to meet her betrothed, a man she did no...
---
Details Flame in the Mist (Flame in the Mist, #1)
Title
Flame in the Mist (Flame in the Mist, #1)
ISBN

9780399171635

Author

Renée Ahdieh

Release Date
May 16th, 2017
Publisher

G.P. Putnam's Sons

Language

English

Genre

Fantasy

,

Young Adult

,

Romance

,

Retellings

Rating
Reviews Flame in the Mist (Flame in the Mist, #1)
"Never forget, Sanada Takeo: in this forest, there is no place to hide." *shivers*This book was just pure enjoyment from start to finish. Japanese mythology, samurai, crossdressing female warriors, secrets, lies AND just the right amount of sexiness. Sure, it's not a perfect book, but somewhere along the way I forgot to care.Flame in the Mist is set in feudal Japan. I keep seeing "Mulan retelling" floating around, but even if you ignore the f...

Renée has such an incredible knack for immersing me in her worlds--and Flame in the Mist is no exception. The world is lush, the characters absorbing, the atmosphere tense and romantic and awesome. Mariko! Mariko, my girl!!!! I loved her. I need more. Immediately.Pre-order this asap.

4.5 stars. This book too me a bit to get into, but by the end I was totally fangirling and cannot wait for the sequel!! (Very minor general spoilers here... nothing too serious). "Be as swift as the wind. As silent as the forest. As fierce as the fire. As unshakable as the mountain." The story starts with a young boy watching his father's execution, which provides some background on the emperor's sketchy decisions and the boy's future motivations...

How have I not reviewed this book? FLAME IN THE MIST is the first in a new series from Renee Ahdieh and it is FANTASTIC. I adored THE WRATH AND THE DAWN, of course, and thought the story wrapped up beautifully in THE ROSE AND THE DAGGER. But to be honest, no one can live up to smart, badass Shazi, right? Right?Wrong, wrong, wrong. Mariko is a smart, brave, careful, flawed and incredibly original. I wanted to take her out of the book and get her t...

2.5ish*This is a hard one to review for a few reasons. Namely, I have such mixed feelings. A lot of people were disappointed by this book because it was advertised as a Mulan retelling but it wasn't really a Mulan retelling, and while I see that complaint you can definitely see how it was Mulan inspired, which is what the author said it was. That aside, there were certain elements of this that I loved, especially the female empowerment, but the s...

Like many others, I went into this—gorgeous, gorgeous, gorgeous—novel thinking I'd be reading a retelling of Mulan, which suited me just fine. Flame in the Mist is not a fairytale, however beautifully it is written. Mariko and Mulan are both intelligent women who gain strength and fierceness along their respective journeys. But Mariko never goes to war—she is recruited by the dangerous ''Black Clan''. Since that doesn't happen, ...

Originally, I gave this book 5 stars after marathoning it in one day & loving it so much. After consideration and further discussion, I'm dropping my rating to 4 stars.I did really love Flame In The Mist. The story was entertaining, had some thrilling scenes, and was all around really enjoyable. As always, I love Renee Adhieh's writing. She has the most delectable prose that is unlike any other YA author out there. Once you get used to it, it...

"You do have a flair for the dramatic."•Although The Wrath & the Dawn definitely did not make it into my all-time favourites list, the idea of giving a try to Flame in the Mist, inspired by Disney's Mulan (maybe the Disney movie I adore the most) and set in feudal Japan, still filled me with excitement. Sadly, however, I found that Ahdieh made once again many of the mistakes she'd made in her previous duology as well, and generally I noti...

warning: this review contains minor spoilers and a shit ton of swearing. I cannot remember the last time I was so relieved for a book to be over. One of the most tragic feelings is witnessing your hopes and dreams for one of your most-anticipated releases of the year crash and burn before your eyes, and I'm honestly pissed at myself now for getting so hyped about this.This book had awful pacing, a plot that I didn't give a shit about, and charact...

"The only power any man has over you is the power you give him." Holy guacamole. This was wonderful.HOW COME NO ONE TOLD ME THIS IS A SERIES AHHHHHH. I WAS NOT PREPARED....Alright. I wasn't that into the first 30-40%. It wasn't bad at all, but I just wasn't really connecting. Mariko is on the way to her betrothed (the prince) when she gets attacked by who she believes is the Black Clan. She manages to escape (as told by the synopsis), but she r...

So, let's get down to business.To defeat the Huns "In the beginning, there were two suns and two moons." In the feudal empire of Wa, a land humming legends of samurai and mythical demons hunting the woods, a woman's place is to obey her father, and later her husband, with no control over her future. Hattori Mariko, though, disagrees. Her curiosity is never satisfied and she questions, studies and learns, earning the reproach of her family,...

"The entire time she'd watched him - waited for him to join her, even in death - her features had remained serene. A flame in the mist."After reading The Wrath & the Dawn duology, Renee Ahdieh easily landed as one of my favorite authors. So it pains me to say that her most recent release (with the most stunning cover ever) just didn't make the cut for me. For those who are aware of the premise, Flame in the Mist sounds pretty darn fantastic...

I knew it wasn't a good idea to read this book because I was told this is similar to The Wrath and the Dawn and *surprise* I wasn't a fan of that duology. Reading this book felt like waiting for math class to just fuckign end. I couldn't wait to get this book over. I was literally counting down the pages till this fucking ended. I. JUST. WANTED. THIS. TO. END. I finally learned true human suffering. This actually wasn't that bad in the beginning ...

you know that feeling when you finish a book and just have to take a moment to appreciate that it was exactly what you needed to read at that particular moment? that is what im feeling right now. i feel so content. i loved everything about this. the writing was classic ahdieh - stunning and poetic.the characters, especially mariko, were so real. wow. i loved mariko. she was the embodiment of a strong female. i loved the lessons she learned - how ...

4.5 flaming stars! 🌟 This was even better the 2nd time round. When I initially read, I didn't think I'd enjoy it. My expectations were low because I judged it purely on my dislike for The Wrath and the Dawn duology. Which is stupid, and I'm glad I was proven wrong, because I LOVED it. Such captivating, Mulan inspired story, in a world which had an enchanting Japanese backdrop, where the writing was so gorgeous I wanted to lap it up, and ...

4/5 stars "Be as swift as the wind. As silent as the forest. As fierce as the fire. As unshakable as the mountain." You might be saying to yourself, "Wow? A review for Mist in the Flame? Didn't you promise to post this three weeks ago?" Actually, you aren't, but I'm going to pretend you actually care and are. Which I reply to you. Yes. I was. But I got lazy. It happens. But better late than never. First just a huge thank you for Pen...

the real me is three kids in a trench coat and they're all Conflicted "The only power any man has over you is the power you give him." hmm that good post-book inner conflict i honest to god can't decide whether i liked this book or not, this is like my own brain who keeps passing over me when i put my hand up first and she needs to stopbut i guess that's just it?? i don't really have any emotions for this book. it's like most of the...

EDIT : I reread this book and I still enjoyed it but not as much as the first time I read it. I used to give it 5 stars but I changed my mind and gave it 4 stars instead. "If I am marching to my death, then I will march to it as a girl. Without fear." This book is about a girl named Hattori Mariko, whose convoy is attacked by the Black Clan, when she is on her way to the palace to meet her future husband, the future husband she does not choo...

Renée is an auto buy for me, so after screaming, I immediately downloaded this and started it.I love Mariko right from the beginning. She's so smart and so strong, but she's unaware of her abilities. It was delightful to see her figure out her potential and place in the world. The members of the Black Clan are interesting and quite the enigma. I loved seeing their truths revealed.I did struggle with the names and that is my main complaint. Each ...

To give you an understanding of where this review is coming from, I'm a 1st-generation Japanese-American, bisexual, and non-binary. I was really disappointed with this book. (And yes, I knew that the book wasn't really a Mulan retelling going into it, so my disappointment has nothing to do with the marketing. But the marketing was crap.)1. There are a whole bunch of historical inaccuracies. And before you yell "But it's fantasy!" understand that ...

aaaaaaaaaaaaaaahhhhhhhhhhhhhhh. nothing like being let down by your most anticipated release of the year.:) :) :) i'm cool. i'm chill. whatever. everybody knows too much salt isn't healthy for your body so i'm gonna try and be rational and keep the roasting to a minimum and everything rated G and family friendly so let's go General Thoughts: i mean, how do you hear "mulan retelling" and not get excited??? sure, Miss Ahdieh and I had our differenc...

"Death follows indecision, like a twisted arrow." That quote, the world of this book in general, the Nightbeast creatures and Kenshin (Mariko's brother), were the only great things in this story. The rest of this book sucked. I was really really expecting a killer story, after hearing all the hype about it. It was killer alright... killed my will power to continue reading it. Mariko was the complete opposite of what a selfless, avenging warrior l...

*I received a copy of this book from the publisher in exchange for an honest review*"I've never been angry to have been born a woman. There have been times I've been angry at how the world treats us, but I see being a woman as a challenge I must fight. Like being born under a stormy sky. Some people are lucky enough to be born on a bright summer's day. Maybe we were born under clouds. No wind. No rain. Just a mountain of clouds we must cl...

The only power a man has over you is the power you give him. —OkamiI actually forgot most of the events in Mulan, since I watched it around eleven years ago. Still, I was very excited to read Flame in the Mist because Mulan is markedly empowered compared to other Disney princesses. I've always been attracted to both Feminist literature and Japanese culture, and I am glad to say that this book met most of my expectations. I can't wait for the re...

"You are first and foremost a person. A reckless, foolish person, but a person nonetheless. If I ever say you are not permitted to do something, rest assured that the last reason I would ever say so would be because you are a girl." // 👏🏼I 👏🏼 LOVED 👏🏼 THIS👏🏼 BOOK👏🏼 Did not disappoint. Need the next book!

It seems I hold the unpopular opinion in regards to this book. While all my friends complain, I'm sitting here like ??? it was epic, where were you???#1 First off, the fact that Renee wrote this book is an instant 10 point. She absolutely slayed me with The Wrath and the Dawn ((I love Khalid sm, my sweet child)) and while there are many parallels that can be linked between the two books, I found this one to have such a passionate charm. #2 The...

Instagram || Twitter || Facebook || Amazon || PinterestDid the people who read this book read a different book than the one I read? Because I did not get a romantic, action-packed adventure. I got a slow and plodding story with wooden characters and writing that was rife with purple prose. It wasn't even the fact that I went in with high expectations; despite the fact that Mulan is one of my favorite movies, I really did not like this author's ot...

This is my first book by Renee Ahdieh and it most certainly won't be my last. The writing is gorgeous, truly captivating me from start to finish. The feudal Japanese setting is fantastic and original. I have read very few books set in Japan, but I enjoyed this so much..I plan to fix that. The story is full of samurai, geisha, ronin, emperors, honor, secrets, and family. And even though at times the story was slower than I would've liked, I was en...