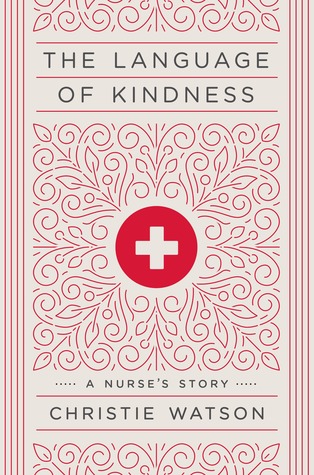 A moving, lyrical, beautifully-written portrait of a nurse and the lives she has touched Christie Watson spent twenty years as a nurse, and in this intimate, poignant, and remarkably powerful book, she opens the doors of the hospital and shares its secrets. She takes us by her side down hospital corridors to visit the wards and meet her most unforgettable patients.In the neonatal unit, premature babies fight for their lives, hovering at the very ...
---
Details The Language of Kindness
Title
The Language of Kindness
ISBN

9781524761639

Author

Christie Watson

Release Date
May 8th, 2018
Publisher

Tim Duggan Books

Language

English

Genre

Nonfiction

,

Autobiography

,

Memoir

,

Medical

Rating
Reviews The Language of Kindness
Christie Watson spent twenty years as a nurse, and in this intimate, poignant, and remarkably powerful book, she shares its secrets.Christie Watson worked for the NHS for twenty years. She takes us on her journey from her very first day in training, walking along the hospital corridors, telling us what she has seen and heard, and the various wards/departments she has worked on. She writes about the compassion, understanding and the genuine care n...

This advance reader copy was provided by Crown Publishing via NetGalley.This book was written by a woman who became a nurse 20 years ago in the United Kingdom under the auspices of the NHS or National Health Service. Working in the healthcare profession is about as "real" as you can get, so as a lover of non-fiction/biographies, I was immediately drawn into this very frank memoir. Nurse/author Christie Watson takes us along on her very first day ...

If the rating were only about the content of this book, it would be an easy 5 stars- Christie Watson writes about the need for compassion, understanding, and genuine care for each other. She tells of the hardships of modern nursing and the funding deficits that mean both patients and staff are being let down on multiple levels. She lets the reader into the most private of experiences, the illness or loss of a loved one, and shows how good nursing...

First of all, thank you to Penguin Random House and the author for sending me an ARC of this wonderful book for review!This book is authored by Christie Watson, who spent more than 20 years as a nurse in hospitals in and around London. It is a tribute to all nurses who work extremely hard and are sometimes underappreciated. They see people at their worst, and sometimes at their best when a cure is found or a new life is welcomed into the world. T...

I have always loved books about Drs/Nurses/Hospitals, and was very excited to read this one. It is a beautiful book, a look into the daily life of a nurse. It is a fast, interesting read, some parts actually made me cry. The author was a nurse in the UK, so I found it fascinating to read the differences between the health care system there, and here in the US. Some of the stories in the book, I wish there had been a little more detail, certain pa...

Christie Watson was a nurse for 20 years, and this book is Christie's account of her nurse training and subsequent career, and all of the fascinating experiences she encountered, people she met, and the things that she felt. As a nurse myself, I found this a really fascinating read to begin with due to the content and some of the experiences that I could relate to. However, at around the halfway mark I lost interest as the writing style was quite...

3.5 stars rounded down because I'm not sure I would really recommend this to anyone who isn't a nurse.The Language of Kindness is author Christie Watson's firsthand account of her time as a nurse. During her 2o years on the job, Watson experience life and death and emergency in every ward of the hospital. The stories she shares of the joy, the hope, the tragedies, and the pain she witnessed and experienced during that time really illustrate the i...

Bawled my eyes out... repeatedly... warts-and-all nursing tales.Watson has already written (award-winning) fiction, and at the time of writing this is no longer in a nursing occupation. I have read and enjoyed the genre before - Confessions of a GP, Call the Midwife, Nee-Naw, the behind-the-scenes of the medical and emergency service worlds. It's a world I could never cope with, I know that. And reading this, I am reminded why. Watson takes us th...

I enjoy reading medical memoirs, especially because my son is in his last year of his medical residency and they give me a little insight into what he goes through working in a hospital. He is also doing a pediatrics residency right now and I especially enjoyed the author's stories of the children she took care of. The author also went into some history of medical practices, etc., which I skipped over a little bit, but I did find it interesting w...

I received an uncorrected proof as a winner of a Goodreads giveaway for this book.Very interesting book. We all know what nurses do. Well, we think we do anyway. I understand a little bit better now what nurses actually do and I commend them for being able to do it. I am in the U.S. and the author is in the UK so it was also interesting to learn what it's like to be a nurse there. Reading this book is to take a walk through the mind of a compassi...

The Language of Kindness is a truly remarkable book about the realities of being a nurse. It was so refreshing to read a book that highlighted the role of the nurse and the fact that this role is grounded in kindness, empathy, goodwill and compassion.I read the book through the eyes of a former nurse. I worked as a care assustant, then as a trained nurse on elderly care wards, orthopedics, and surgery, before settling on renal dialysis. For me, t...

I'm not certain why the cover design for The Language of Kindness is so abstract; there is certainly nothing abstract or theoretical about the endlessly challenging work of nursing that Christie Watson describes in this book. Falling into the profession as a seventeen-year-old, Watson bounces all over the place through the course of her career: from mental health wards to geriatric care homes, to working with learning-disabled adults, to oncology...

I received an ARC of this autobiography via the First to Read program through Penguin Random House LLC in exchange for an honest review. Christie Watson recounts stories about some of her most memorable patients during her 20 years as a nurse delivering patient care. Christie shares some of her early childhood memories that ultimately steered her to a career in nursing. Christie offers a look into current care as she connects current practices, p...

Christie is a nurse, but it's not as simple as that. She's the one who holds your hand when you cry, helps you understand what the doctor has said, holds babies who are crying when their own mother can't be there, she's the one who comes racing through the corridors when you're having a heart attack to help you. Simply, she (and every other nurse) is the backbone of our NHS. When Christie leaves school she begins working with people wit...

I'm not a fan of medical non-fiction. I understand why people read them: the stories of the patients, the life-and-death topic, the grisly details which enliven the text and are so unlike most non-fiction books. So I get it, I really do. But there's a read-one-read-'em-all quality to medical non-fiction. They blur. Although this book fulfills every stereotype of the genre, this book rises above them. The voice is firstly, a nurse's. And what a nu...

The Language of Kindness is a masterful title for a medical memoir. It's interesting for me to read a British nurse's experiences, a first for me. I've read from a surgeon's perspective before, but I already know that there is a gap between both professions that many people outside of the medical world may not realize. Watson highlights that part as well, informing readers with sincere and empathetic details about how a nurse's occupation is trul...

There is no doubt that Christie Wilson feels passionately about nursing and her career in the NHS. This feels as much a dossier to make us understand as a memoir. And there are such powerful stories that she has to tell. But it feels a little like someone trying to get their point across by firing out lots of the most heart rending examples. And - strangely - this left me feeling less than I might have done in hearing them.I work in healthcare an...

I received "The Language of Kindness" for free through Goodreads' Giveaways program.This book provided a glimpse into the world of nursing. Christie Watson, a British nurse and writer, chronicles her nursing career-- from when she decides to become a nurse to when she decides to move on. She describes what it's really like to be a nurse, explaining that kindness and empathy are key to the profession. Watson worked on a variety of wards (children'...

This is a wonderful memoir. It is an honest account which takes the reader through the life of a teenage girl who doesn't know what she wants to do, who then becomes a student nurse and then gradually, over a period of twenty years, an expert nurse.As a student, the author initially experiences mental health nursing, but she goes on to choose child nursing as her specialty. She recounts memories and experiences from different hospitals and differ...

*I received an eARC through NetGalley in exchange for an honest review*This is a book that is clearly riding the waves of the success of When Breath Becomes Air, and I think it's a worthy competitor. It's not often you get to hear from a nurse's perspective though, and this is definitely the book people need. It's heartbreaking, beautifully told, and provides a fascinating overview of nursing in the UK. However, at times I think it tries to be a ...

This is an excellent book. It isn't perfect but then another are we. And Ms Watson shows people in all their imperfect glory and it is wonderful. The empathy, compassion, (and occasional stubbornness), needed just to get through her career as a nurse for 20 years in the NHS is well captured here. Starting from her first day when she wasn't sure who was staff and who was patients, the author grows into the role and the need to care. Small things a...

I was given a copy of this book by the book review site NetGalley in exchange for an honest review. I work in the healthcare industry which is where I have worked for most of my life so I am always interested to read a memoir by someone working in this field. this book has got to have been one of the best books that i have ever read in this genre. Christie Watson is a born writer , she writes with warmth and compassion her descriptions of some of...

This is a very special book. Powerful, deeply emotionally affecting writing that left this grizzled 42 year old with tears rolling down his cheeks on more than one crowded commute. Warm, chilling, funny, terrifying, anger inducing and sublimely uplifting; it leads the reader through the widest range of emotions a book of its length may ever have done. This is the most important book about the British society I can remember reading. Should be requ...

A real good look at the nursing experience, as told by a nurse. The author is/was (once a nurse/always a nurse?!) in England, but I think all nurses, from anywhere, will find something to relate to in her story. She really wrote accurately of the nurse's 'view'.....she is 'spot on!' It's a very quick read, describes several different fields of nursing & should also be enjoyed by those who are not nurses. I bet if you know a nurse.....if you read ...

Language of kindness is a very well written account of nursing from the author's perspective. It does remind you that this not the US health system when talking of options that are available. The words flow from the page and carries you along enticing you with what will follow. I really appreciated that many aspects were included to include the parts away from what is thought to be the "job". Thank you First to read for this copy to experie...

I read less than half of this book. It was very difficult for me to get that far into it because I believe only someone with a nursing or medical background can appreciate and follow the book's content. I'm sure it deserves more than the three stars I gave it, but I just couldn't connect with the story. This book was a goodreads giveaway win for me. I wish my review were more favorable, but I intend to pass it along to someone in the field of nur...

This is a wonderful memoir of nurse Christie Watson. She takes us through her life as a nurse and gives us a snipit of behind the scenes in a hospital. It is a very touching and heartfelt story of a woman that put her patients and their families first and the toll it has taken on her.Many thanks to netgalley and Tim Duggan Books for this advanced readers copy.

I received this book from a Goodreads giveaway. As I am interested in working in the healthcare field in the future, this book was a great read. It was nice to read the many compassionate stories Christie Watson has from her years of being a nurse. Worth the read (especially for prospective nurses)!

I found this a very interesting and fascinating read about Christie's account of her Nursing career .Very enjoyable proving that Christie and every other nurse is the true backbone of the NHS .I received this book from Netgalley in return for an honest review .

*I received this book from a Goodreads giveaway*This charming memoir about nursing is a reminder of the importance of nurturing the spirit as well as the body; of kindness and the preservation of dignity; and of love and family.Recommended reading for nurses and those who care for nurses.