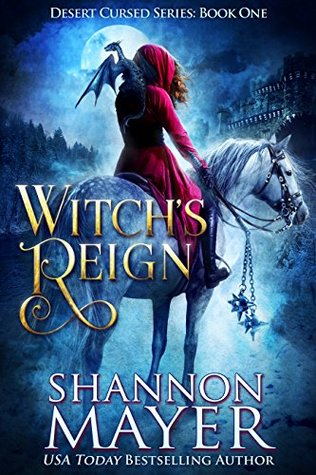 I am cursed by the desert I was born in, and now I wander the space between the Walls meant to hold my kind-the supernatural kind- in. If I can find a way out, if I can find a way to escape, perhaps I can outrun this curse. But that means passing through the Ice Witch's realm-something no one has returned from. But life has a funny way of changing directions on you. A freak accident. A child in danger. And a damn Warlock named Merlin who thinks h...
---
Details Witch's Reign (Desert Cursed, #1)
Title
Witch's Reign (Desert Cursed, #1)
Author

Shannon Mayer

Release Date
Jan 30th, 2018
Publisher

Hijinks Ink Publishing

Language

English

Genre

Fantasy

,

Magic

,

Paranormal

,

Dragons

,

Vampires

Rating
Reviews Witch's Reign (Desert Cursed, #1)
You know that moment when you finished every book a specific author has released and you just can't get enough... Witch's Reign has made me realize I'm there with Shannon Mayer.

If I'm to be honest, I must start off by saying that If I had known that WITCH'S REIGN was part of the Venom world, I would not not have given it a chance. Thankfully there is only one mention of 'super dupers' in WITCH'S REIGN.WITCH'S REIGN is part of the same world as Shannon's Venom series—even has some of the same characters—, but it feels different. Which in my book is actually a good start. Unfortunately I feel that we are missing a lot...

Wary of reading next one...This was my introduction to this author. I really had high expectations since it was recommended by an author I enjoy, but it took me longer than it really should have to get through this book. Checking out the ratings it seems like I am in the minority so perhaps it's just comes down to personal preferences.So many of the characters were not worth liking - specifically Kiara, Steve and Darcy. Drunk or not Darcy is no...

Kindle Unlimited. The world building could have been better. I'm still a little confused about it, to be honest. It's INTERESTING, but confusing. I want to keep reading, to find out what happens to the characters, and in the world overall.As far as characters go, they were ok. I liked Maks most, even though he hardly spoke.I don't understand the Steve thing. What's so great about him that all three females fell for him? Eww. I don't understand Br...

2.5 starsThe ending was the best part. Otherwise this was very blah.

There's nothing wrong with Witch's Reign in terms of writing or anything else except that it's a spin-off and because I have zero experience with Shannon Mayer's books at all I felt like I wasn't really into it. I tried to go with the flow while reading but somehow I just couldn't fully enjoy it, not that there's a lot of references to those books but it's like I missed something. You know how sometimes it's just "click" with someone or something...

I wanted to love this book so much. However, I did not feel it. I enjoyed it enough to finish the book but, I had to really motivate myself at times. Part of it was it took forever to feel like something was going on. I somewhat liked the characters but, I did not feel the emotional depth for them. And, that is sad. I liked Zam, she was sort of reckless and cursed. However, the story and world building started in the middle or it sort of felt lik...

I didn't like how the protagonist kept getting walked over by everyone...

I have been a fan of Ms. Mayer since I read her Rylee Adamson series. And this book in a new series just highlights why. She is an excellent writer, her plots are interesting, and her characters are strong. In this book, we are introduced to Zamira who is shapeshifter and steals for a living but for good reasons. When one of her teammates goes missing, she sets off with another teammate to rescue her. The book was full of action and had many inte...

Witch's Reign is set in the Rylee Adamson world. Ms. Mayer includes characters we've met previously such as Alex (from the Rylee Adamson series) and Merlin & Flora (from the Venom Trilogy) very seamlessly. Zamira, a downtrodden feline shifter beaten down by self loathing and an ex-lover, finds herself in insurmountable odds at every turn. The story will have you sitting at the end of your seat hollering and rooting for the underdogs as Zamira...

This book took me an unprecedented 7 days to read, mainly because I found not difficult to put it down , it just did not compelle me. In all honesty, it did not help that it is a spin -off of the series I have not read. I found myself struggling with sorting out the background story, characters and their dinamics. I also found a lot of action but not enough tension to keep me engaged. I might give a second book a go but not yet. For now I would l...

How have I never read Shannon before?! I picked this book up on a whim because I was looking for something with dragons and stumbled onto this instead and then proceeded to devour it in two hours. If I didn't have things to do, I'd be starting book two right away and as it is, I'm debating on how badly I actually need to leave the house let alone wash my hair. The book is that good! But don't take my word for it, pick it up and check it out. I do...

There are so many reviews here I am sure this will get lost. I loved this book. The characters were so real that I was happy to let them in my mind. I have so many questions at the end that I kept hoping there was more pages I was missing. So yes the series will be read in full. It was so good to see the underdog allow others in her heart. I won this book as part of a give away and it is signed. It will go in my shelf of honor and I have another ...

Witches Reign was pure magic.I really love a supernatural story that grabs you from the first page and keeps you in it's grip the hole way through, constantly trying to guess which way the author will jump with the story.Zam, Maks and Lila were my favourites, Darcy I'm hoping will have more of a part in future stories, Steve and Kiara and both go to hell I mean seriously I want to see them both taken down a few pegs.Merlin entertaining and always...

The Desert Cursed Series is a spin off/continuation of Mayer's Venom and Vanilla. This book focuses on Zamira and her hunt/quest to save a friend. She is "Zamira the Reckless. A Wall Breaker." There are a lot of secrets and backstory that come out in the book but many pieces are still missing. It will be interesting to see where the series goes but it is one that I wish I could binge read the series rather than waiting for the next. I just feel...

I really enjoyed reading this book a lot more than I thought I was going to. I wasn't sure at first because it takes a while to warm up to the story and characters but I really enjoyed it. There was so many twists and turns I really had no idea what was going to happen next. Next one please !

this was the first book I have read from this author. I liked it, kept me interested and wanting to know what will happen. I love Zam and Maks and Lila (the dragon). I will read the next book in this series.

LOVED this book.... Ms. Mayer is constantly bringing in new stories and characters that just suck us in as readers... Zam, Balder and Lila are such GREAT Characters... Steve not so much.... Can't wait to see what the future brings for ALL of them....GREAT NEW SERIES!!!

😻I'm not sure I love the world. but I'm dam sure I loved some of the characters!!! Zam especially! The world they live in is scary as hell. And kind of a bit to dam mean!! God now I gotta wait on book two and I want it now!!!!!!

This story is full of of pace with twists & turns along with friendships made, broken & some heating up to possible romance in the future!! I liked the female heroine, Zamira, she is fierce of heart though she lacks self belief due her differences from her family. She has an unrelenting need to help those who can't help themselves even if it's likely to cause her end!!! I've only rated this book 3.5 stars as it feels like I was reading a book tha...

GreatGreat start to a new series. This is a very good world. Can't wait for the next book in the series

AwesomeShannon Mayer ALWAYS delivers! I can't wait for the second book. I read this one waaaay too fast. It was over too soon.

Another Amazing Series StarterHonestly, is there anything Shannon Mayer writes that isn't amazing?! Rylee, Nix, and now Zam! I had no idea what to expect when beginning this journey. I am eager for book 2! How does Shannon captivate her readers so easily?!

OMG. This book is so good. Anything by Shannon Mayer keeps me hooked. I think that her trilogy's se the best. I can't wait for another book in this series. I couldn't believe that about Maks and Steve is awful. Something is up with Ish and I hope they figure it out soon.

Lions and Jinn and Dragons! Oh my!The first chapter or so didn't quite grip me, but I am so glad I kept reading. I can't wait for more!

"Just what in the sand dunes of hell was going on here?' is just one line I loved from this new book from Shannon Mayer! Witch's Reign (Desert Cursed Series, book 1) is keeper. The story revolves around the main character, a shifter named Zamira (aka Zam) who is asked not to retrieve a friend who was captured by the Ice Witch. Of course, she can't leave her bestie to a terrible fate so she heads out to rescue her. Along for the ride, is a human f...

Witch's Reign (Desert Cursed, #1) is my first Shannon Mayer read ever and I must say I have been missing out! She writes in my favorite way, with sass, class, humor, heart, fight and a strong female lead, reminiscent of one of my favorite authors, K.F. Breene! I could not put this book down! She had me from page one all the way to the last page! This new exciting world that Shannon created is full of threats that must be overcome and we, the read...

Such a well written story! There appears to be background information missing which gives you some gaps. Zamira, Lila and Maks make a very interesting team. You have a mystery with an unusual character playing a part, Merlin. But as much as I loved the story I would like some more information about the wall, Merlin, and why the Jinn destroyed most of Zamira's pack. I do like the possible romance between Zam and Maks. The ending is a cliff hange...