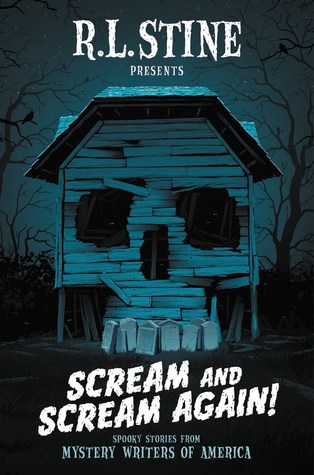 A harrowing array of scary stories that all have one thing in common: each either begins or ends with a scream!R.L. Stine--the godfather of Goosebumps--and some of the most popular authors today bring an unrivaled mastery of all things fearsome, frightening, and fantabulous to this terrifying anthology of all-new scary short stories.Scream and Scream Again! is full of twists and turns, dark corners, and devilish revenge. Collected in conjunction ...
---
Details Scream and Scream Again!
Reviews Scream and Scream Again!
E ARC from Edelweiss PlusIt's so hard to write reviews for short stories, since no two are the same, they are fairly short, and (in this case), they are all sort of gory/scary and I don't care as much for those. This is, however, a book most middle school libraries need to buy. If your copies of Schwartz's Scary Stories to Tell in the Dark or Horowitz's Horowitz's Horror are falling to pieces (like mine are), you definitely need to purchase this....

I have to say I really enjoyed this anthology of stories. It really harkens back to my childhood where there were all these scary story anthologies I used to read under the cover during middle school. And there were a large variety of stories-- some that were beautifully written, others with surprise endings, and others in the format that reminded me of stories written in the 90s. There were only a few that I didn't really get into, but I feel li...

I received this ARC via my library director, who got it from the publisher at the PLA conference.This short story collection is perfect for Goosebumps fans. Though authors have written for middle grade all the way to adult, most of the stories are not too scary and end well. There are ghosts and witches and zombies and shapeshifters and creepy dolls. Strangely, two of the stories deal with cannibalism ("I Scream" and "The Trouble with Squirrels")...

I got this as an ARC, so changes may have been made. Overall, pretty good. My only complaint would be that you could tell a few writers cheated a bit and did the required 'start with a scream or end with a scream' by adding a 'scream' at the start of a story they probably already had ready, and then did something I HATE-invalidated an opening premise the next sentence. Nothing makes me skip a story faster, or a book for that matter, then an openi...

Book received from giveaway"Scream and scream again!" is a collection of short stories by various authors. The stories are scary enough to sit down and read aloud amongst family to enjoy together. The book would also be a perfect gift to give to someone in late elementary to early middle school as it would fall along right in their age group. Coming from various authors some stories had unique twist an turns, others where way scarier than the res...

My kids are a huge fan of R.L. Stine. We look forward to the opportunity to review, "Scream and Scream Again!" by R.L. Stine.