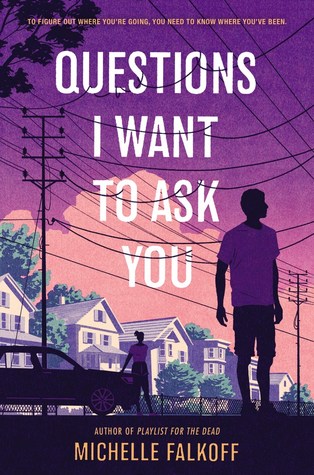 Patrick "Pack" Walsh may not know exactly where he's going in life, but he's happy where he is. He's got a girlfriend who gets him. His single dad is his best friend. After graduation, he has a desk job lined up at the local crossfit gym, maybe he'll even work his way up to trainer. He can't see himself ever leaving the small town of Brooksby, MA. And he's fine with that.Then, on his eighteenth birthday, a letter from Pack's mot...
---
Details Questions I Want to Ask You
Reviews Questions I Want to Ask You
4 starsI actually enjoyed this a lot more than I expected to!I've checked out Michelle Falkoff's other novel, Playlist for the Dead, three times from the library (and renewed it many many more) yet I never get to reading it. So, I was admittedly a little worried I wouldn't feel encouraged to pick this up.But somehow, this book just sucked me in.It started out fine and had a good premise, but as I continued reading, it was like I was holding my br...

DNF @ 36% "To figure out where you're going, you need to know where you've been." So I wasn't feeling this book at all. I really wanted to love it, because you know me - I'm a sucker for a family story and I thought Pack finding out more about his mom, his family, and himself would be a great story. Unfortunately I just couldn't connect with Pack to save my life. He wasn't a bad character, we just didn't mesh and I couldn't bring myself to car...

Full review on my blog.Really disappointed, the annotation seemed so promising! Way too much talk about exercise and diet choices, the first 1/3 of the book was basically spent talking about that and not moving the plot forward much. The last 10%, however, were really rushed. Narration was boring at times. Almost DNFed.