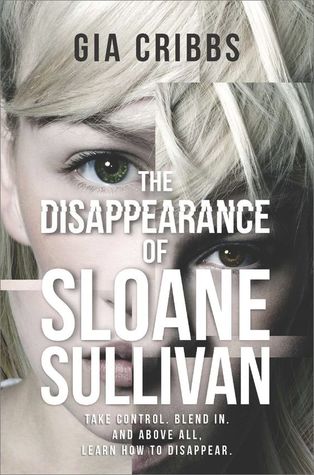 No one wants me to tell you about the disappearance of Sloane Sullivan.Not the lawyers or the cops. Not her friends or family. Not even the boy who loved her more than anyone. And most certainly not the United States Marshals Service. You know, the people who run the witness protection program or, as it's officially called, the Witness Security Program? Yeah, the WITSEC folks definitely don't want me talking to you.But I don't care. I have ...
---
Details The Disappearance of Sloane Sullivan
Title
The Disappearance of Sloane Sullivan
ISBN

9781335015372

Author

Gia Cribbs

Release Date
May 29th, 2018
Publisher

Harlequin Teen

Genre

Young Adult

,

Thriller

,

Suspense

Rating
Reviews The Disappearance of Sloane Sullivan
When Sloane Sullivan was 12 years old, she witnessed a murder and then her parents were killed, and she was quickly put into the witness protection programme under the guardianship of Agent Mark. For years they have been changing names and moving around, now that she is nearly 18 years old, this is her last stop and then she is free to go to college and become Sloane Sullivan for good. Sloane has been great at keeping under the radar until the fi...

This is a really, really good YA thriller, and honesty, a great contemporary with a dash of suspense as well. It has super swoony bits, amazing characters who will surprise you over, and over, and over again, and a twist ending that made me re-read the whole book! (and I'm normally prettyyyyy good at catching twists.) I know this probably sounds like the vaguest review ever, but the twists start at about page twenty, and DONT STOP, so I'm afraid ...

I couldn't put this book down. I was hooked from page one. Sloane Sullivan is just one of the many names 17 year old Sasha Abbott has has since she was 8. Her dad saw something done by the Rossetti mob family and she saw it to, even though she doesn't remember, it's WITSEC for them to stay alive. Sloane's mother has already been killed, her dad commits suicide, now it's just her and her WITSEC agent, Mark, or at least this is what she has been to...

Great thriller with so many twists right up to the end! There were a few times I thought I had things figured out but I was wrong - which is my FAVORITE kind of mystery. Excellent book!

The Disappearance of Sloane Sullivan is a mystery thriller with some amazing twists that I never saw coming and it touches upon some pretty dark crimes, but on the whole it is quite a lighthearted book, focusing on interpersonal relationships, high-school drama, and romance. The Disappearance of Sloane Sullivan is an easy book to read and enjoy, with a likeable main protagonist and some intense relationships.Sloane knows how to stay hidden in pla...

Wow, this was an amazing thriller ! From the first pages of the prologue my heart was pumping. This is such an amazing read and this is the authors debut published novel. I am so excited to read more from this author.This novel had me at the edge of my seat the entire time. It's a super quick read because you need to know what is going to happen. I guessed a twist within this novel, but did not realize the depths in which this twist went. This is...

I won a copy of this book from the Goodreads giveaways! Sloane Sullivan has had 19 different identities in almost 6 years. On the run and hiding from things and people she can't remember, Sloane is in the Witness Security Program. She's only got a couple months left of her senior year, a plan for college and hopes of finally being free. She just has to get through the next couple months with no trouble. Smooth sailing, until she runs into Jason, ...

Just finished reading this AMAZING book, and OMG it's so good! Had me on the edge of my seat right up until the last page. If you're looking for a YA thriller with tons of twists and turns, then this book is a must-read for you!

A very good read. Characters hold the reader's interest. Cannot put down until the end. Filled with surprises especially the end. Enjoy.

I started reading this thinking it would be your average YA mystery, however I was very much mistaken. It was a million times better than I anticipated, so much so that I couldn't put it down, reading it in an afternoon (I can't believe I forgot to eat lunch!). The author does an awesome job of weaving past memories into the present without confusing the reader, it totally blends. I loved Sloane- her quick funny banter, quick on the uptake, a...

**I received an ARC in exchange for an honest review**This was a solid 4 star read. I was intrigued by the whole idea of WITSEC in a YA setting, and it definitely followed through on that. The build up to the end was quite good, and kept me turning pages long after I should have gone to bed!I knocked off a star because was a little disappointed in the ending, the wrap up seemed a little big "Scooby Doo," wherein we just get an explanation just ki...

What an intense and awesome story with a major twist that I didn't see coming! This story could have just kept going on and on it was that good! Great job Gia!

I received this book through a Goodreads giveaway, and loved it. Twists and turns, developed characters, and a nice flow. I'd definitely recommend it to someone looking for a fun suspense thriller.

This book is a total page turner! The set up is unique and the main character a treat to follow around. There are so many plot twists, almost all of which I did not expect, that it's hard to put down. The book has a great balance between teen drama and high stakes thriller (plus a charming romance). Highly recommend!

really great story! full review to come.

I received this book through a giveaway through the Harlequin Teen website.