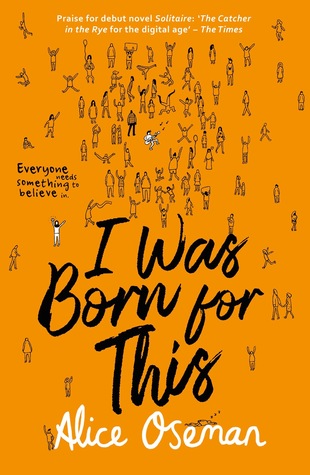 For Angel Rahimi, life is only about one thing: The Ark – a pop-rock trio of teenage boys who are currently taking the world by storm. Being part of The Ark's fandom has given her everything – her friendships, her dreams, her place in the world.Jimmy Kaga-Ricci owes everything to The Ark too. He's their frontman – and playing in a band is all he's ever dreamed of doing. It's just a shame that recently everything in his life seems to...
---
Details I Was Born For This
Title
I Was Born For This
Author

Alice Oseman

Release Date
May 3rd, 2018
Publisher

Harper Collins Children's Books

Language

English

Genre

Contemporary

,

Young Adult

,

Lgbt

Rating
Reviews I Was Born For This
How do I mail one million hugs and kisses directly to Alice Oseman?I feel like this book just dragged me into whatever living equivalent of heaven there is. Alice Oseman's books have the type of energy that will always add value to the space and lives of those who read them. They get under your skin and before you realize it, they seep into your veins and make your heart expand to make more room for them. Like, if you could chop open my heart r...

this is a book about obsession and hero worship and an internationally famous trans musician, it's about a girl going to london for the first time to meet a friend she's known for years but never met, it's about three boys who started from nothing and became gods, it's about teens who sit in bed reading fanfic and dreaming of being rich and famous and in love, dreaming of a life that is something beyond what they have. it's my best book yet and i...

Alice Oseman's best book by far. Bloody hell.You need this book. You want it. The cover alone is worth having it.This book is one of the best examples of queer representation that I have encountered to this day.Not only are the main characters far from cis/straight/white but so is most of this book's cast. Let's start with Angel and Jimmy.Angel is an 18-year-old Muslim girl, whose greatest passion is The Ark, a famous boyband. She loves this band...

A new Alice Oseman book.After Radio Silence blew me away, I became fascinated with this author who, by the way, published her first novel at nineteen. I'm twenty, going on twenty-one, and what have I put into this world? A couple of reviews. Do they count? Let's say they do, for the sake of my sanity. This is the story of Angel and Jimmy, two teenagers from two different worlds. Angel is a fangirl, whereas Jimmy is the one people fangirl or f...

I ADORED THIS BOOK SO FREAKIN MUCH IT WAS AMAZING AND IF YOU WANT TO READ MY FULL REVIEW YOU CAN DO THAT RIGHT HERE ALSO, YOU SHOULD READ THIS BOOK

*hugs myself* I adored this. Reminded me of what it's like to be a part of a fandom in the best way. Also that there are always two sides to a fandom and you never really know what anyone is going through (which is v cheesy but also v true so HUSH). My heart is so happy after finishing this one 🧡

I generally really enjoyed this book! It wasn't quite as good as Radio Silence in my opinion, that one is still my favourite of Alice's! But the book was still really well written! She's such a talented author What I liked about this book: - Hijabi main character, half indian main character, Nigerian supporting characters (poc all around!) - Bisexual, trans male, and Gay characters - Great portrayal of anxiety - Alice just writes such great chara...

Probably more of a 3.5 but I suspect that has a lot to do with my total disinterest in contemporary novels. It's always the same. It was the same with Sandhya Menon's lovely When Dimple Met Rishi. Like this one, it was a very nice, soothing story with great characters, but just not 100% my jam. I just don't think it's fair to rate a novel lower because I personally cannot be arsed with the contemporary genre. That's not on the book; it's on me. B...

"They felt like the reason I was born was to . . . love them."You know when your favourite writer comes up with a new book, you always get both excited and terrified, because what if this book isn't what you had expected it to be? But then it turns out even better. Because of course it's better than expected, your favourite writer wrote it. I think Alice Oseman is brillant. I think her books are out of this world. And I cannot wait to rea...

bless Alice Oseman for helping me get over my book hangover -UM HELLO I JUST GOT APPROVED FOR AN ARC OF THIS AND I HAVEN'T STOPPED SCREAMING. 2018 TRULY IS THE YEAR OF THE GAYS (aka me and Em) GETTING WHAT THEY DESERVE-LOOK WE HAVE A COVER!!!!!!!! i'm honestly so freaking excited for this book, i love Alice Oseman with all my heart and i watched all of her Book 3 diaries last year so i'm emotionally INVESTED in this book. this is one of my 3 MOST...

I was sent an ARC copy of the book by the publisher HarperCollins, thank you so much for sending it to me! This was one of my most anticipated releases of the year, with Radio Silence being one of my all time favourite contemporaries. I was a little hesitant going into it as I saw it was centred on a boyband which I'm usually not interested in, but I trusted Alice to deliver and I was totally right to do so. I think Radio Silence will always be m...

I cried, I laughed, I fell in love. and this is just the first draft! pretty sure this is gonna slay me when it's edited.Alice Oseman was born to write this novel. A dark and funny look what happens when online fandom collides with real life in messy, bittersweet detail. Exposes the reality of being a fan - and being famous - without holding back any punches.

If someone can make me read an almost 400-page book in two days, while also going on lectures the second day, it's Alice!I got all of the feelings and fandom goodness, plus a great and diverse cast of characters. REVIEW TO COME - - - - - - - - - - - - - - - - - - - - - - - OMG!! I WON AN ARC ON TWITTER!! First time in my life I get to read the book early and it happens to be by one of my favorite authors!!💜😭💜😭💜😭🎉

4 / 5 ~ I reaaaally enjoyed this book. Alice Oseman has a way of writing characters that feel so real and relatable in so many different ways. This book is no exception. Excuse the poor quality of this review, there's not much to say other than plain truths:- I loved how she dealt with fandom, the good, the bad, the misunderstood parts of it.- The characters, once again, felt incredibly real. I loved some more than others, and often my favourites...

5/5stars guys... I fucking loved this.Truly, I haven't connected to a book like this in a LONG time. I'm lucky, I get to see white girls in books a lot, and even recently get to see "pansexual" and "demisexual" pop up here and there, but I'm also a person who my race/sexuality isn't something that super defines who I am - its just a part of me that's there rather than at the forefront.But shit son, the fangirl of a boy band thing hit me harder th...

Review also on my blog • Twitter • BookstagramRep: biracial (Indian and Italian) anxious gay trans guy mc, Persian Muslim Hijabi who's questioning her sexuality mc, side black character, side bisexual character, side biracial (Chinese and white) bisexual character Content warnings: injury, panic attacks So if you don't know, Alice Oseman's Radio Silence is my favourite book of all time. That made me really excited for this book. And I o...

I am not afraid, said NoahI was born for this Gods, Alice Oseman just keeps getting better and better with every book. I mean, Radio Silence will probably forever be my favorite of her books because it felt like my book soulmate, but this book? Beautiful. I wish I could send all my love to Alice. You know when fans say "You should be grateful to *insert author's name here* for writing this book because it's their gift!" every time someone critic...

I AM STILL SCREAMING ABOUT THIS IT WAS EVERYTHING I WANTED IT TO BE AND MORE. I have feelings about this.Full review coming soon. Less screaming in it, I promise. Or maybe not. But add this to your TBRs, you do need to read it. It's amazing. <3

I love all of my children Jimmy Kaga-Ricci, Angel Rahimi, Bliss Lai, Juliet Schwartz, and Lister Bird.Rowan can kindly go fuck himselfalso the Muslim rep in this is !!!!so good!!!! Alice oseman did SUCH a good job I loved the rep so much and related to it A LOT IM JUST SO HAPPY AT HOW GOOD IT WAS

Internet friends meet in real life. Sound familiar, fangirls ? Yeah I thought so . ----------------------------------------------I was born for this Amazing how everything can change within the space of a few hours I haven't felt this related since Eliza and Her Monsters and boy oh boy I mean internet friends became real life friend is me. I've met my facebook friend almost 2 years ago and things has been great. I hang out with her more...

This is my first read by Alice Oseman and I really enjoyed it overall! I like the diverse representation of the characters. One of the main characters Angel is Muslim and is a huge fan of a band called The Ark. Instead of going to a school leaving event, she travels to London and meets a friend called Juliet, who also loves The Ark. Together, they have tickets to go to a meet and greet with the band. The other main character is the frontman of Th...

Thank you, Alice Oseman, for Jimmy. His fears, his anger, all his anxiety... It's a part of me too and I couldn't have pictured it in a better way that you did. So thank you.

Gosh I love the feeling after reading a book by Alice Oseman.Actually, it's a mixture of love and hate. I love the way she makes me feel things. I end up falling in love with all the characters (maybe bar a few) and simultaneously want to adopt them and protect them from the world. But sometimes, I'm angry, because Oseman's novels can be so relatable that I can see myself in the characters or the story, so I get sad that she's made me self-refl...

alice oseman is officially my favorite contemporary writer. her stories are brilliant and sensitive and diverse, and their reflections on friendship, identity, internet culture, and art just feel real in a way that very, very few books i've read in my lifetime can achieve.i'm super behind on reviews after finals, so if i don't get the chance to come back and add to this later please know that it was absolutely stunning and i highly recommend this...

I LOVED THIS BOOK SOOO GODDAMN MUCH💛😻💛😻💛😻💛😻💛😻💛😻💛😻💛😻💛😻💛I seriously want to see The Ark perform Joan of Arc or just let me read the entire lyrics really, pleeeeaase??!!So, I'm just gonna go draw a sketch of my smol bean Jimmy wearing black angel wings or smth anD YOU SHOULD GO READ THIS BOOK

alice oseman is my favourite author of all time, and of course this was more incredible then i ever could've imagined. also i would die for jimmy aka the best and most purest book character of all time jssecond read and many more to come let's be fucken honest

More thoughts closer to release date!